Subscribe to Source-Nexus today. 
System requirements: A Mac with macOS 10.11 to macOS 12 or A PC machine running Windows 10 64 bit.
NOTE: Legacy versions older are no longer available for sale.
Source-Nexus Subscription
MAC OS & Windows
SUB_NEXUS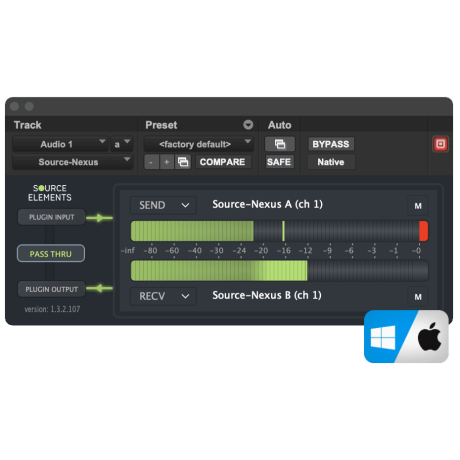 Source-Nexus: Time to be powerful.
Source-Nexus 1.3 for MacOS 10.11 to 12 or Windows 10 64-bit, subscription license
What's new? 
Visit https://www.source-elements.com/products/source-nexus/
There is only one version now, no more Basic, Pro, or separate Control Panel. Source-Nexus includes everything!
Known issues, June 2021
Source-Nexus 1.3 is not backwards compatible, but users upgrading from 1.2 will be able to continue using 1.2 as well while they transition over
There is a bug where you cannot use the same audio device in multiple Source-Nexus plugins. We're working on a fix and will release a patch update shortly.