Monthly subscription for Source-Connect Pro. Billed $105 each month with a $75 initialisation fee. All prices are in US dollars.
Subscription terms
The $75 fee reapplies if a subscription is stopped and restarted anytime that the previous subscription cycle is three continuous months or less. When your previous subscription cycle was four months or longer please contact us (support@source-elements.com) for a coupon to bypass the $75 fee.
For more information on managing, creating and cancelling subscriptions see https://source-elements.com/info/subscriptions
Source-Connect Pro Subscription
MAC OS & Windows
SUB_SC_PRO_MONTH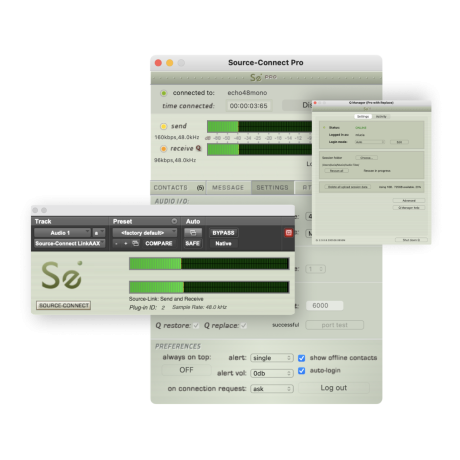 Source-Connect Pro Subscription for Mac OSX or Windows.
Monthly subscription billed at $105 each month with $75 initialisation fee. For support email support@source-elements.com
Source-Connect Pro Subscription - An invaluable tool for remote recording sessions; connecting Audio Engineers with Talent Remotely worldwide.
Source-Connect Pro is the version of Source-Connect that is usually set up and used on the Audio Recording Engineer's side when doing remote recording sessions and projects. It facilitates a high-quality audio connection between the Audio Engineers and VoiceOver or musical talent so that the engineer can record a remote talent directly into their DAW as if they were recording from the studio room next door.
Here is the Source-Connect Pro User guide on our support page to help get you started with the Source-Connect Pro Subscription set up.
What does Source-Connect Pro Subscription Provide?:
Full-duplex di-directionality.
Reliable and resilient ultra-low latency connection
High-quality crystal clear audio with sample rate options from 44.1k to 192k in mono or stereo
never miss a take with Q-manager's auto restore function (make sure your talent clicks the q-manager button on their side).
Remote transport sync to allow you to control and sync a remote DAW to timeline (check out Source-RTL to make things even easier for your talent).
Multi-connect for simultaneous discrete recordings.
Need to traverse your internal network or can't port forward? VPN mode is also available in the Pro version.
Flexibility for setting the ports you use for NAT traversal / Port forwarding if you are using other network devices or more than one instance of Source-Connect at your location.
What is Q-Manager for Source-Connect Pro Subscription?:
As long as Q manager is open on both sides - then Source-Connect Pro's Q-manager Auto Restore and Replace feature guarantees that the remotely recorded ADR takes are perfect even if there are real-time internet bandwidth glitches. The Restore function (available when the talent is using Source-Connect Standard with Q-manager open) checks the data that is being sent for any glitches or dropouts and will send the missing packets to your DAW and automatically restore your files or you. The Replace function (available when the talent is using Source-Connect Pro with Q-manager open) allows your files to be replaced with lossless uncompressed PCM versions if needed.
What are the benefits of using Source-Connect Pro Subscription on Both sides?:
More sample rate options. Source-Connect Standard only has 44.1k or 48k sample rate options.
There are also marked benefits to having Source-Connect Pro on both sides including the Q-Manager's full file replace functionality which makes quality & dropout issues from internet fluctuations inconsequential because the files in your DAW can be replaced by uncompressed PCM lossless versions sent to you via Source-Connects inbuilt FTP. If configured correctly this can run seamlessly in the background while you continue doing your work.
The other benefit is being able to use Source-Connect RTS functionality in Review mode.
Videos for Source-Connect Pro Subscription:
Here is the introductory video to source-connect which includes details about Source-Connect Pro Subscription.
This video created by Audiolink_MA gives a good explanation of the differences between the Source-Connect Standard and Source-Connect Pro versions.
Here is Javier from Source-Elements Support's video on how to set up a basic Source-Connect Recording session... he's using standard, but the same applies to setting up source-connect Pro Subscription.
And here is a video from Paul at Auralation showing how to set up Source-Connect Pro with Logic Pro. It's similar to doing a setup in any professional DAW such as Protools, so regardless of what DAW you use this is good to watch. You can check out the useful companion plugin Source-Nexus here.